The
CENTAURA DIAMONDS

Gift Card
A genuine natural diamond is a unique and original gift. Surprise the recipient(s) and turn an event into an unforgettable experience.

Each diamond gift card contains a genuine natural diamond. The size and the quality features of each diamond are indicated on its certificate of authenticity. Only ethically correct, conflict-free diamonds make their way into our security packaging. We give you our word on that.

The undamaged security seal guarantees the diamond's authenticity and ensures its lifetime guarantee. Each gift card is subjected to our quality control process before it reaches you. We vouch for the impeccable quality of every diamond gift card that leaves our house.


You can choose the size of the diamond for yourself. Each diamond is individually examined and classified by gemmologists. The quality of the natural diamond is indicated on the reverse of its authenticity certificate.

All our diamonds are conflict-free, and are obtained from legitimate sources in accordance with the applicable United Nations legislation.

The rough diamonds we use come from diamond mines belonging to Alrosa, De Beers Group, Dominion Diamond and Canada Mark.

Each diamond is carefully cut into the most beautiful of shapes - the brilliant cut. Due to our regular personal contact with the diamond grinders, we continue to ensure the best quality/price/performance ratio.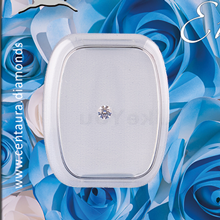 The diamond's security packaging is designed in such a way that, thanks to its various security features, it is extremely difficult to duplicate. The security packaging consists of three parts: a small dome containing the diamond, the motif card and the certificate of authenticity. If the sealed packaging is opened, the safety features are damaged and the package cannot be resealed without the tampering being evident.

If we receive a diamond with security packaging that has been opened, all guarantees are null and void. However, as long as the security seal has not been tampered with, we provide a lifetime guarantee that you have a genuine natural diamond.





Your diamond gift card from CENTAURA DIAMONDS is delivered to you in an elegant gift box. Ready to become the perfect gift.

The recipient can show off the open gift box. The diamond gift card is presented in classy, appealing fashion, and the selected motif is shown off to its full effect.
A gift to celebrate a birth, birthday, baptism, Valentine's Day, wedding, or Mother's Day, a token of love, or simply to say thank you. Giving the gift of a diamond is the best way to show your appreciation for someone because of its uniqueness and brilliance.

The original in diamond gifts for every occasion.