The most brilliant gift in the world comes in the size of your choice. The
CENTAURA DIAMONDS
diamond gift card is available in 8 diamond sizes. 0.03ct - 0.05ct - 0.08ct - 0.10ct - 0.12ct - 0.15ct - 0.18ct and 0.20ct Each genuine natural diamond is brilliant-cut.
Select the size of the diamond, and the perfect
Motiv
.
A suitable motif for every occasion, whether it's for a birth, baptism, engagement, wedding, birthday, anniversary, celebration of love, and more.
As a
Swiss Company
and brand, for us Swiss virtues are not simply a duty, but also a need.
Accuracy, quality, integrity, order and discipline. We also guarantee that every diamond we sell comes from legal,
conflict-free
sources.
Each diamond also comes with a guarantee and certificate of authenticity for its identification.
The certificate, which is included with every diamond gift card, provides information about the properties of the diamond.
Carats
: 0.03 ct bis 0.20 ct
Colour
: E
Clarity
: VS1
Cut
: VG - Very Good
Polish
: EX - Excellent
Symmetry
: EX - Excellent
Brilliance
: EX - Excellent
Culet
: none
Fluorescence
: none
For details of the specified quality criteria, see
"The basics about diamonds"
(German).


On the back of each gift diamond card is a small certificate with the most important details about each Diamond.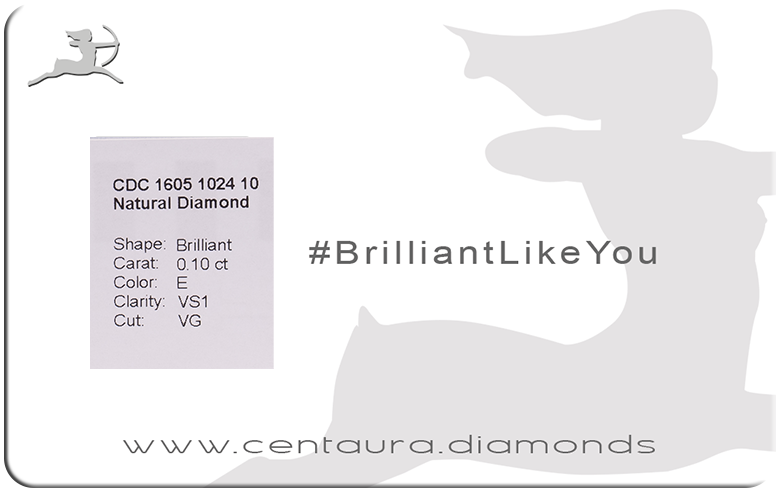 In the gift box is the guarantee and certificate of authenticity.
The certificate also contains details such as polish, symmetry, brilliance, culet, and fluorescence.






The date of issue of the certificate is also clearly visible.


To increase the security of the product, we have also created an online certificate.
By making a certificate enquiry here
Certificate Check
(http://www.centaura.diamonds/en/certificate-check.php)
you can verify your certificate and print a copy of it. In addition, you can see the motif on the
Security Seal
, well as all the details about your diamond.